Playhouse Wine Festival Trade Tasting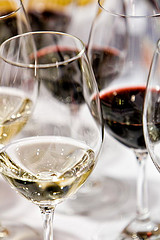 There's nothing like skipping out on work to sip wine, which is exactly what Stacey and I did at the Playhouse Wine Festival Trade Tasting one Friday afternoon.
The theme country for the 2008 Festival is Italy, so we took our New World Palettes™ and sampled Italia. The Sangiovese grape, which was elevated to a group discussion at the festival's Wine Seminarium, figures prominently in many Italian blends. While not always the case, the wines from southern and central Italy had an earthiness that we are not accustomed to. We encountered lots of spicy blends, too.
We crossed the floor, literally, to taste the international (and BC) wines also being poured. We tasted South African, German (gotta love those Rieslings), Argentinian (Viva, Malbec!), and Californian (we couldn't resist — it was Francis Ford Coppola).
We made three stops at BC winery tables. Sandhill, Quail's Gate and Gray Monk.
Sandhill poured a selection of reds that really made us feel back at home. The servers were fun, knowledgeable and gracious while pouring Sandhill's Cabernet Merlot blend, their 2006 Merlot, and their to-die-for small lot series One and Two, plus their 2005 Syrah from the Phantom Creek Vineyard. Delicious!
Grant Stanley, winemaker of Quail's Gate charmed us both with his infectious enthusiasm for making wine in BC. Describing the difference between Old and New World winemaking, he had a great quote:
"The great thing about New World wines is that we don't have to make wines like our Grandpa."
Grant let us have a sip of the remarkable reserve label Stewart Family Vineyard Pinot Noir 2006. We can't wait to make another visit to Quail's Gate in Westbank, BC.
We dropped by the Gray Monk table for a tasting. One of BC's more established wineries, Gray Monk is another family-run operation that doesn't seem to rely on marketing flash to sell product. They just make good wine, and someday we hope to make a trip to their winery, located just north of Kelowna.
After getting a tip from the people pouring at the Francis Ford Coppola table, we b-lined to the Catena Zapata (Argentina) table to try their lovely Malbecs before the event ended.
On our way out we made a final stop at the Sandhill table for a chance to meet winemaker Howard Soon.