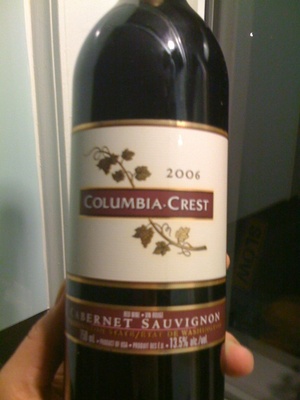 Yes, we're all about BC wine here at this blog, but we also take a certain pride in what our neighbours to the south have achieved. In fact, the more we learn about winemaking in BC, the more we are compelled to learn about what's happening in Washington state.
A couple months ago the respected publication Wine Spectator produced its Top 100 wines, settling on Washington's Columbia Crest winery 2005 Columbia Valley Reserve Cabernet Sauvignon as their Wine of the Year.
In a twist of fate, we went out to The Keg restaurant for a steak dinner that weekend, and on the menu was a Columbia Crest Cab Sauv (pictured here) but not the reserve. All of us at dinner raved about the wine, giving me an excuse to seek it out at our local liquor stores.
Luckily, BC Liquor Stores do stock the non-reserve label we drank at The Keg, and a reserve label and a very fine Merlot. I picked up a case of Columbia Crest selections and we managed to work through them all during the holidays.
Tonight we opened another bottle, and I was impressed enough to post a Tweet. I'm not sure what the magic is of Columbia Crest, but you get lots of soft, round fruit in each mouthful. This wine pairs well with comfort food, meat or Asian dishes, and stands its ground. You'll savour each mouthful, even of the non-reserve label (2006) which has slight hints of tobacco and dark chocolate.
We also drank their Grand Estates Cab Sauv, and their Merlot. Each was a worthwhile purchase, and the non-reserve Cab and Merlot are a steal at under $15 per bottle in BC.