What's happening in BC wine country? A BCWineLover/CityCaucus.com cross-post
2011 was a watershed year for BC's young and evolving wine industry. Once again cool weather would test the resolve of both veterans and newcomers alike. The mild springs and hot summers British Columbia got used to during the last decade are doing a disappearing act, forcing wineries to adapt to much lower grape yields and in some cases causing inconsistent output.
On the bright side, however, BC wine seemed to shift into a higher gear in terms of its overall quality, and the industry gained respectability and influence both at home and abroad. It's easy to overlook our successes and lose track of the events that are helping to shape BC's wine industry, which is what brings me to write this industry retrospective.
What were the biggest events which impacted British Columbia's wine industry? I present them in ascending order of significance.
#15 Culinary experiences expand in the Okanagan
Two years back BC Wine Lover interviewed local wine pioneer Harry McWatters about what he felt the industry could do to add value to the wine travel experience in our province. His advice – seen in this short video clip – was to increase the number of culinary attractions. "We've had a deficit in great culinary experiences historically, and we're starting to see now a broader range of accommodation," remarked McWatters, who goes on to say the challenge is to expand beyond just the traditional (summer) seasonal business.
To that end, 2011 was the year Okanagan wine country saw an increase in choice for fine dining. In recent years the Naramata Bench has had a couple of options at Hillside Estate Winery and Lake Breeze Vineyards where wine travellers could pair with delicious dinner and lunch dishes.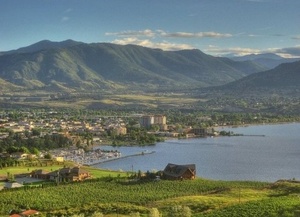 Now Summerland has Local Lounge – started by McWatters' daughter Christa-Lee McWatters Bond. On the Golden Mile Bench south of Oliver, BC, Tinhorn Creek Winery has opened Miradora Restaurant with its to-die-for view of the Okanagan Valley. Neighbouring Hester Creek Winery (who did a significant successful rebranding in 2011) opened Terrafina Restaurant. The Sonora Room across the valley at Burrowing Owl Winery is still doing brisk business too.
These attractions and others are perhaps what prompted Uptake.com and Huffington Post to plug Penticton as one of its "Top 10 travel destinations" based upon Facebook user feedback. We're not sure how they arrived at their choice (claiming they sorted through 200 million Facebook inputs), but it surely means that you better book your Okanagan vacation accommodation a little earlier this year.
#14 Social media launches #BCWineChat
On the subject of social media we're of course biased here at BCWineLover.com. Back in 2007 we became one of the first blogs that devoted itself exclusively to giving BC wine lots of love. Because traditional marketing budgets are O-U-T out of reach for most small to mid-sized wineries, social media must play a larger role. It's possible that Twitter could put a venue as small as Rollingdale Winery on the map.
Now a true BC wine online community is breaking out on social media thanks to Tinhorn Creek owner/winemaker Sandra Oldfield, who prevails in the Twittersphere with her voluminous observations about life and wine in the south Okanagan. Sandra kicked off #BCWineChat in the fall, using that Twitter hashtag to pull people together each Wednesday evening at 8pm to discuss a predetermined BC wine topic. It's a great idea and it's likely to create a new synergy that can only help the business get better.
#13 New British Columbia wine regions emerge
It's said that growth of BC wine is limited by the arable acreage in our province for growing grapes, currently estimated to be about 10,000 acres (by comparison Washington state has 25,000 acres of vineyards). However, a few wineries are pushing the boundaries in other parts of BC, and coming up with some promising results! (For more background on BC's appellations read this great post by John Schreiner.)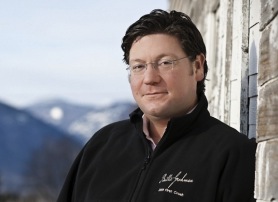 During a tasting last summer Stacey and I were heartily impressed by the wines produced by Baillie Grohman, a winery located near the USA border in Creston, BC. We had the pleasure to meet Dan Barker, a native of New Zealand who works in BC, then goes back home to work during our winters (never cold – what a life!).
There is also Fort Berens Winery in Lillooet, BC in the Fraser Canyon. I confess I was a skeptic when I first encountered the brochures for the winery in a Lytton tourist attraction, but that went away when someone opened a bottle and poured me a glass. Turns out that that summer desert heat and proximity to water might come in handy for growing grapes! Their first grape harvest was projected for last fall, so we wish them luck with their 2011 vintage.
#12 Growing grumpiness about alcohol taxes
Should the BC government get out of the business of selling liquor altogether? Can we slash taxes and not invite increasing rates of alcoholism or budget deficits? Where is the middle ground, if any?
In November, Washington state voters chose to get their government out of the booze business altogether, closing government run liquor stores but maintaining control over who gets to sell alcohol. A website called Free the Wine raised a glass to Washington, and argues that BC do the same. Government run booze operations are so ingrained in this province (and paying generally better wages and benefits than private retail operations), it's hard to imagine that kind of big shift here.
This old Facebook group run by Tim Crowhurst champions a reduction in alcohol taxes in BC. Shea Coulsen over at Just Grapes blog made this passionate argument just over a year ago:
As a lawyer who has a degree of experience dealing with government agencies, I must say that the BC Liquor Distribution Branch may be the most obfuscated body in the entire BC government. It routinely violates principles of administrative law that include open access to information, transparency and fair hearings and decisions. Its markup system underhandedly violates principles of tax law by effectively taxing liquor 123% without requiring a vote in the legislature (i.e. taxation without representation).
Coulsen goes on to say it's not the government's responsibility to keep people employed for its own sake, and that revenues would only increase if taxation and privatization plans were implemented.
#11 The debate over BC wine prices heats up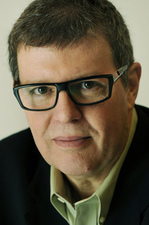 While others will debate taxes and the value of government-run liquor distribution and sales, we here at BC Wine Lover believe that the price we pay for wine is far too high. Furthermore, we encourage closer ties with Washington's wine industry in order to enhance our province's international appeal for business and tourism. Yet with such a disparity in pricing over the Canada-US border, we can only be holding ourselves back.
Vancouver Sun wine columnist Tony Gismondi summed up the pricing problem well in a September column:
It's hardly breaking news that British Columbia wine is overpriced. B.C. wine is supposed to be a ni
che business. There was never an economic model for cheap wines even if the owner is prepared to buy a lifestyle and work at their winery 24/7 as some do with grace and aplomb…

Most of the wine sold in the world sells for less than $25 a bottle, and the vast majority is under the $15 mark which is why local wineries need to produce less but better wine and try to at least make a go of it in the $15 to $25 range for all but a handful of super labels.

We will never be able to take on Chile or France or Italy or Australia at the bottom end, so let's stop trying now. We need microscopically defined appellations, much better science, better vineyard management, better winemaking, and better marketing.

If we are going to survive in the new wine economy, more collaboration between industry players is needed. It is all doable with a little cooperation and leadership and a lot of forward thinking.
While this topic about the cost of BC wine is hardly new to 2011, it's an important debate to mark as the industry and the market matures.
#10 Painted Rock John makes a deal with China-based buyer
When we visited Painted Rock Winery last July for the first time (we met proprietor John Skinner at the Playhouse Wine Festival trade tasting in March) it was a cool, grey day in July. But sombre weather didn't stop John Skinner from practically jumping for joy at the news he had secured a deal with an investor from China for exclusive rights to sell Painted Rock wine back home.
The Chinese deal is for from 500 to 1,000 cases of wine a year. But as production is still ramping up, there will still be enough of the wine available in B.C. to meet local restaurant and consumer demand, Skinner said.

Painted Rock produced 2,800 cases of wine in its first vintage, 2007, and current production is approaching a ceiling of 5,000 cases a year.
For a new winery it's an impressive milestone that helps to secure Skinner's plans for growth. It's a testament to not only his business savvy, but to the increasing appeal of BC wine beyond our borders.
#9 Local talent blossoms as BC gov't invests in wine industry labour study
In the scheme of things it's not a lot of money, but the Government of British Columbia under the direction of Minister of Jobs, Tourism and Innovation Hon. Pat Bell provided $140,000 for a horticultural industry group to study wine industry labour market needs. In short, as BC grows more grapes, we need more talent to make sure we grow them right.
The goal of the project is the development of a comprehensive human resources strategy for the sector. It will also identify industry-specific training needs to ensure workers with the right skills are available, and in the future, trained here in B.C. The study is the first of its type in British Columbia to determine future skilled labour needs for the wine and grape sectors.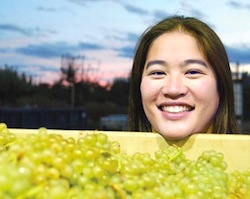 It's widely known much of the winemaking talent in BC came from places like South Africa, New Zealand, USA, France and Australia. There is also amazing home grown talent such as Vancouver-born and raised winemaker Howard Soon of Sandhill.
Now a new name has emerged as someone to watch – Vancouver winemaker Karen Gillis of Red Rooster Winery. This young woman graduated high school on our city's west side, and took off for the Okanagan in her twenties. Her work is having a huge positive impact on the winery, which released a gorgeous line of up red blends and varietal wines in the past year, and won a Gold Medal – Best in Class for their 2010 Pinot Gris in Los Angeles.
#8 The ascension of well-priced VQA wines
If you're like our household, when it comes to pairing wines weekday meals you don't want to overdo it. When dinner amounts to Sunday's leftovers, you're unlikely to want to open one of your trophy wines, opting for a modestly priced Argentian or Italian wine instead of a pricier BC wine. Thanks to the emergence of a small number of well-priced labels from Peller Estates and Ganton and Larson Prospect wines, you can experience BC VQA wines for under $13 per bottle.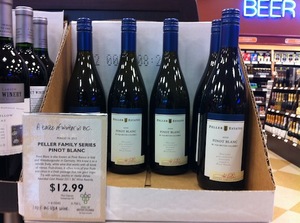 While Prospect has been around since 2007 (John Schreiner explains the complicated relationship with Mission Hill winery here), it's been during the past year that Peller Estates moved onto their sub-$15 turf. Pinot Blanc has emerged as perhaps BC's signature white varietal, and at $12.99 per bottle, Peller's Family Series Pinot Blanc is crisp, with good acidity and balanced fruit. Lately we've been buying it in bulk.
Again, it's just another signal that BC wine is opening up in terms of market accessibility, and it's great that consumers on a modest budget can get good BC wines.
#7 Northwest wines take top US awards
I caught this story first on the fabulous Wine Press Northwest magazine website last June. At the annual Los Angeles International Wine & Spirits Competition, BC kicked butt by earning 9 'best in class' awards in several wine categories.
Among the top performers were Gehringer Brothers Estate Winery receiving 3 Best of Class awards for the 2010 Classic Auxerrois (93 points), 2010 Classic Ehrenfelser (92 points) and 2010 Desert Sun (93 points), and Summerhill Pyramid Organic Winery receiving 2 Best of Class nods for their 2007 Organic Cabernet Franc (93 points) and 2009 Organic Gewürztraminer (95 points).
While our BC wines have been distinguishing themselves for decades, to sweep so many categories at a large Los Angeles event is a great boost of confidence for the industry. See the full list of best in class winners here.
#6 Wine Bloggers Conference announces Okanagan date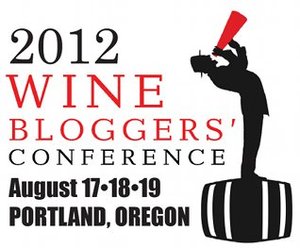 The annual Wine Bloggers Conference is only a few years old, but attending has certainly been on our 'to do' list since it
began. The next event takes place in August 2012 in Portland, Oregon. If we can get the time off, it would be seriously tempting to head down to Portlandia. However, we were thrilled to hear that the Wine Bloggers Conference is coming to the Okanagan in June 2013! You can be sure we'll be there.
The best way to keep updated on what's happening with #WBC13 is to join the Facebook page set up by Okanagan writer Allison Markin. The fact that bloggers are coming here to experience our wine is further confirmation that the compelling "BC wine story" helps to sell our province abroad.
#5 BC's first 'virtual wineries' launch
I'm linking two stories from 2011 because I think they represent another evolution of the industry, albeit one that has created some controversy. First is the launch of Okanagan Crush Pad, which is a Summerland-based winemaking facility with some neat bells and whistles like BC's first use (to our knowledge) of concrete fermenting tanks. "OK Crush Pad" is not your traditional destination BC winery, it's a shared facility where those with the right skills, access to fruit and other resources, can produce excellent wines.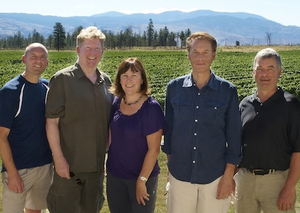 The Crush Pad was the brainchild of owners Christine Coletta, Steve Lornie, plus winemaker Michael Bartier, formerly of Road 13 Winery and industry consultant David Scholefield. What the foursome launched was what is called a virtual winery, kind of like a virtual company where several employees collaborate remotely. Globe and Mail wine critic calls it an "evolution towards virtual vino".
Similarly, we have the new wine project by BC's most esteemed industry veteran Harry McWatters. This year McWatters Wine was unveiled (BC Wine Lover attended a lovely kick-off luncheon on South Granville) and like with the crush pad McWatters – the founder of Sumac Ridge winery – decided to go virtual.
Where the controversy arises is with the objections by those who decided to go the non-virtual route, like winemakers Richard Roskell of Naramata's Marichel Winery and Ross Hackworth of Nichol Vineyard. It would appear as the industry 'evolves' these concerns will diminish, but you do want to see these fine small facilities flourish too.
#4 Rumours of BC Wine industry's demise not true, but…
The BC wine industry is just past its 22nd birthday, assuming that you consider the great grape pull out triggered by North American free trade, and the creation of the provincial Farm Gate Winery Policy in the late eighties as catalysts. And like many 20-somethings who are all about experimenting, throwing caution to the wind, and in some cases racking up their credit cards, the BC wine industry must try to stay focused.
Or at least that's the argument of two Simon Fraser University professors who produced a report (get PDF here) published last January. It triggered this alarming headline in Wine Access magazine: B.C. wine industry heading for disaster? The findings are fascinating, concerning, and for those who've observed the industry close up, predictable.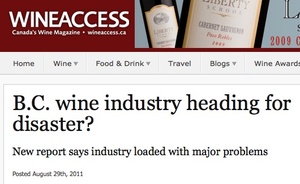 Yes, the viability of the BC wine business is going to depend upon the creation of a long term strategy. This could mean pulling out lots of grape varietals which are just not succeeding in the marketplace. It could mean that many individual wineries will come and go. A 'disaster' will only happen if customers reject the fresh new world flavours BC wines provide, and the attraction of wine travel here somehow wears off. Both of these outcomes seem unlikely to happen anytime soon.
A funny footnote to this story is the comment left by Christine Coletta (see Crush Pad story above) on the Wine Access website:
Chicken Little did his thing in BC in 1988 and we responded accordingly and grew and are thriving. Yes we are fractured (shame on us for in-fighting) but many of us see the glory and the potential and are working hard to make wins. Hey if you don't like the wine game – try retail clothing or coffee. Most owners face competition and so do we. Time to grow up.
#3 The weather
For the second year in a row the weather in BC was a big challenge. Cool spring temperatures and spotty summer sun. In 2011, August and September's hot weather were a relief, but was it enough to produce better yields? We're hearing that the grape harvest is mediocre at best.
If 2012 isn't any better it will impact the smaller wineries especially. Let's all pray for a lot more grape growing weather this year.
#2 Mulligan defies laws and drives to Alberta with wine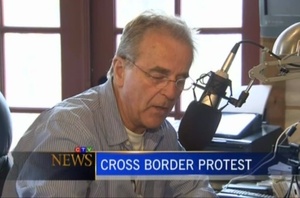 Yes, it was a PR stunt, but one that turned heads for normally complacent consumers. Canadian broadcast legend and fellow BC wine booster (see Tasting Room Radio) decided to box up some fine Okanagan wines and – horrors! – drive them over the BC-Alberta border. You see, thanks to an 80-year old law, individuals are prohibited to transport or ship wine over our provincial boundaries in Canada!
Mulligan, formerly an RCMP officer before entering broadcasting in the late 1960s, quipped that he was expecting visits from friends while in jail. Alberta Mounties didn't lock him up, just like they don't bother busting thousands of other wine tourists who leave BC with a case or two. The law, as Mulligan demonstrated, is a joke.
#1 MP Dan Albas & Bill C-313
Inside every good bottle of BC wine comes a litte bit of our province's reputation. Every bottle we can't export outside the province is a missed opportunity to promote what's great about British Columbia. This is one reason why ending a law which prevents the export of wine over provincial boundaries within Canada makes no sense. Enter the politician who appears to be succeeding in getting rid of that law.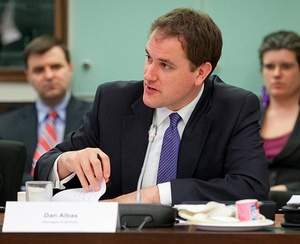 Dan Albas is a former Penticton city councillor who was just elected the Member of Parliament Okanagan-Coquihalla last April. We've come to expect new backbench MPs to blend into the woodwork in the House of Commons, learning the ropes, and certainly not bringing forward legislation that would be passed by Parliament. That didn't stop Dan from picking up where others have failed and bringing forward Bill C-311, an Act to amend the Importation of Intoxicating Liquors Act (interprovincial importation of wine for personal use). You can see a video of him tabling the bill here.
Albas's bill received support from all parties in the House:
On a personal note it was very rewarding to hear from my colleagues both in the Liberal and NDP Caucus including my fellow BC MP's Alex Atamanenko, Joyce Murray, Jean Crowder, Ron Cannan and Parliamentary Secretary Cathy McLeod who all spoke very passionately about the need to eliminate trade barriers within Canada and support our Canadian Wine Industry.
As of December Albas' bill has received second reading in Parliament. It's assumed it will receive third and final reading, and become law in 2012 (track the progress on Facebook). This will be a huge victory for the rookie MP, for the industry and for consumers. But will it result in wine becoming more available or – gasp! – fairer prices? The final word goes to one of our favourite Vancouver wine writers Tim Pawsey, aka the Hired Belly.
As far as wines that come in through "the system," we still scratch our heads over how we in B.C. continue to pay among the highest wine prices in the country – also reflected in restaurant markups, which are effectively based, perhaps not surprisingly, on the post tax-paid value.

Do we expect any relief for either restaurateurs or consumers in 2012? Not really.

The bottom line? Nothing's going to change until someone in government grasps the need to implement a viable wholesale price system, something which would definitely be on our wish list for this new year. Well, we can hope, can't we?
– Cross-post by Mike Klassen to BCWineLover.com & CityCaucus.com. Photo of Okanagan Crush Pad team by Lionel Trudel.
Follow us on Twitter!
Subscribe to BC Wine Lover by Email!