Pinot Noir ice wine infused cuvee conjures "strawberry jam on toast"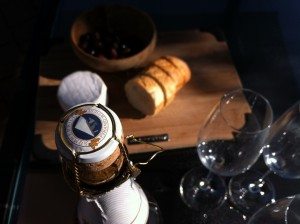 When it comes to May weather in Vancouver, Saturday evening could not have delivered anything more temperate and lovely. It really felt like the beginning of our summer season, giving we wine lovers a reason to celebrate. Summerhill's Cipes Ice is another one of the Pyramid Winery's fine sparkling wines. We opened it up and promptly poured it into our flute glasses, letting the evening sun glint through the glass and bubbles.
On our first sip we tasted strawberry. Our friend Pete likened it to strawberry jam on toast, which we all agreed was an apt description. The winery describes it as:
This sparkling wine displays a very active and festive play of bubbles, and delivers mouth-filling flavors of intense strawberry and long lasting raspberry. The unique use of organic ice wine as a dosage increases the residual sugar to balance the acidity and enhance the fruit flavors. The wine is harmoniously balanced with clean, lingering fruitiness.

Notes of strawberry, raspberry and blood orange with a creamy mousse and a crisp, clean honeyed finish.
Vinification notes state "Cipes Ice is an organic Pinot Noir cuvee, finished with an organic Pinot Noir Ice wine dosage. The icewine lifts the red fruit flavours of the Pinot Noir. This wine has spent four years en triage." It has a semi-dry finish, with the organic ice wine helping to add sweetness.
Cipes Ice won a Silver Medal at the 2011 All Canadian Wine Competition. As with all Summerhill Pyramid Wines it was made with 100% organic grapes. Priced for a special occasion at $45 per bottle.
- post by Mike