Feenies goes Haywire White and Red
Chef Rob Feenie Goes 'Haywire' with New Wines for Cactus Club Restaurants
Some news from our friends at Haywire Winery…
Haywire winery announces that in partnership with the team at Cactus Restaurants, they have launched new wines labeled Feenie goes Haywire. Two wines, a custom-blended red and white, were made at Okanagan Crush Pad in Summerland, BC by winemaker Michael Bartier, with collaboration from Cactus' executive chef Rob Feenie, and Cactus beverage manager Sam Zavari and service director Sebastien Le Goff. Available exclusively at Cactus Club Cafe locations, the wines will cost between $36 and $40 a bottle.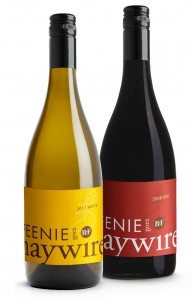 Winery owner Christine Coletta and Chef Feenie first met years ago on a winery tour of the Okanagan. In the time since, a wonderful professional relationship has formed. Chef Feenie selected the Haywire Pinot Gris as the accompaniment to his Gold Medal winning dish in the 2011 Vancouver Gold Medal Plates competition, and at the Canadian Culinary Championship's grand finale he went on take the Silver medal nationally, using the Haywire Pinot Noir.
"We have come to learn over the years that Rob's passion for food aligns with our commitment to making quality wine," says Coletta. "So when it came time to create a signature wine for Cactus Club Cafe, it came together naturally."
The team at Cactus Restaurants is also pleased with the outcome of the project, which is the result of a true team approach. "When we were deciding what to name the wines we knew we wanted to honour the relationship between Rob and Christine, as well as celebrate the already existing Haywire label," shares Le Goff. "Also, we all recognize that in a kitchen it can get a bit 'haywire', so the name "Feenie goes Haywire" fit the bill."
Because the restaurant team had input over the final blending and creation of the wines, they make a perfect accompaniment to the Cactus Club Cafe menu. The teams suggest the following "Feenie Goes Haywire" wine pairings for diners when they visit Cactus Club:
The Feenie Goes Haywire 2011 White, an aromatic and floral blend made from Gewürztraminer and a touch of Chardonnay, makes a great match for Korean style lettuce wraps, lingcod fish tacos, or the butternut squash and prawn ravioli.
The Feenie Goes Haywire 2008 Red, made from a bold blend of Merlot, Cabernet Sauvignon, and Syrah, offers a full mouth feel with red fruit and smoky notes, and is dynamite with burgers, peppercorn New York strip loin, or a short rib sandwich.