Haywire Gamay Noir Rosé 2011: the Power of Pink
There's a "Rosé Renaissance" happening in BC – add Haywire to your tasting list
With summer sun at a premium in BC this year so far, Stacey and I cherish the evenings on our garden patio where we can sit outside and absorb the light. We love Rosé wine but prefer only to drink it when the sun is shining. Part of it is a matter of taste. Rosé just feels better on the palate with a bit of summer's heat. The other reason is sensory – the light looks beautiful through the wine's pink colour.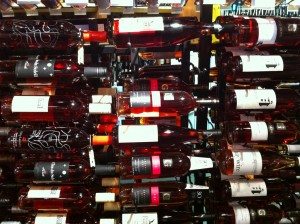 BC is having a Rosé Renaissance, with so many delicious choices. Just look at the image on the right (click for larger) of a rack at Sip Wines. It's a bounty of Rosés produced by BC's best winemakers.
One Rosé that started a summer evening on the patio was Haywire Gamay Noir Rosé 2011. It's bright colour almost looks like neon in the sun, and it expresses the power of pink wine. Haywire Wine, which is produced at the Okanagan Crush Pad facility, provides their own colourful notes:
This wine is 100% Gamay Noir grown by the Wise Brothers at Secrest Mountain Vineyard in Oliver. The block gave us a fresh, bright Rosé, bursting with cherry and cranberry, and somehow with a finish that hints of coffee. We did a fourteen hour cold soak to extract its lovely pale colour and to achieve a hint of tannin. Then we stirred it to the right until the next full moon, and then to the left until our arms were really, really tired. It easily fulfills Rosé's purpose on this earth which is: … "refreshing acidity to prepare the palate for the bowl of steamed clams and mussels"… or "to daydream the afternoon away while floating on an air mattress on Okanagan Lake."*

*attach bottle with a string to your toe and use a plastic wine glass.
Great suggestion! We love the idea of splashing in Okanagan Lake and look forward to our return there in about four weeks. For a look at previous posts on BC Rosé wines see this tag.
– post by Mike