Marquis Wine Cellar social media meetup
Great staff make Marquis Wine Cellar the West End's wine oasis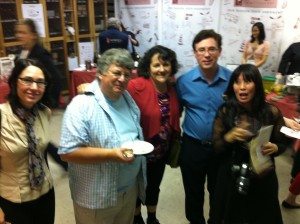 Metro Vancouver does not lack for first rate wine shops. Stacey and I will sneak out to south Richmond just to visit Sip Wines. We've had several lovely visits to the Village VQA Wines on West 41st Avenue. When we're in Vancouver's West End Marquis Wine Cellars is a must-visit for us. Each them have great staff who are passionate about good wine.
Marquis' proprietor John Clerides generously hosts a gathering of social media types in the back of his store each year, catered this year by the amazing Lolita's South of the Border Cantina from the Davie Village. The Mexican-inspired eats were paired with a flight of whites and reds.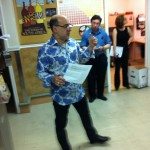 John was proud to announce the expansion of his store's floorspace (they've acquired the neighbouring space). He was also blunt with the folks in the room about the challenging regulations enforced on the liquor selling industry by both the Province of BC and the City of Vancouver. It's certainly a recurring theme these days, considering the #FreeMyGrapes movement. Vancouver Sun wine writer Tony Gismondi predicts that wine will pass beer as BC's most consumed alcoholic beverage by the end of 2012. Wine sales in establishments like Marquis, including their online sales are steadily growing. In a way the market is asking for government to treat consumers like grown ups.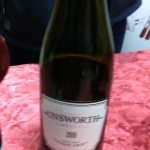 Like any proud Greek-Canadian would, John decided to test our new world palettes with a couple of strong Greek red wines. He also exposed us to other wines from around the world, including a pleasant Oregon Pinot Noir (2007 Amalie Robert, $41.90) and a pair of wines from a new BC discovery – Unsworth Vineyards. Unsworth are located near Mill Bay, BC, on Vancouver Island. The cool temperatures and short growing season of the past couple of years has been especially tough for wineries on the coast. Out of the gate we can say that Unsworth wines certainly show some promise.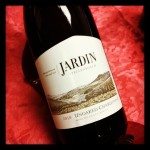 A lovely discovery for us was 2010 Jardin un-oaked Chardonnay, Stellenbosch from South Africa ($19.90). Stacey and I both loved the fresh citrus flavour, so we decided to pick up a couple of bottles.
If you're looking for a great Vancouver-based wine seller with excellent selection, good advice and online purchasing, then be sure to check out Marquis Wine Cellars.
– post by Mike
Subscribe to BC Wine Lover by Email!