Moon Curser gets Decanter's nod for best Canadian red
"Border Vines" 2009 Bordeaux blend wins big for south Okanagan winery
I fully admit having almost the same first reaction to the rebranded "Twisted Tree" winery from Osoyoos as many others — I really didn't like it. "Moon Curser"? What the heck was that? And the labels – whoa! So much going on there.
Boy, has my view gone 180 degrees since. The turning point was a trade tasting held late last year at the Vancouver Convention Centre. Seeing the bottles up close, Stacey and I were won over by the elaborate "storytelling" behind Moon Curser's packaging, what was bottled inside knocked us out. Not only was their signature white (a Viognier) crisp and inviting, but as you would expect from a winery built on the dry, warm conditions of the East Bench of Osoyoos Lake, their reds were lush and ripe (writer John Schreiner recommends decanting newer reds). Here's how they describe their vineyard: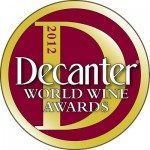 Moon Curser's three vineyards are on the highly desirable Osoyoos East Bench. And somewhat similar to Sarah Palin, we can see the USA from our kitchen window.

Our six acre homestead vineyard was planted in 2005 and now in its seventh leaf. Six rather unique varietals are planted here: Tannat, Tempranillo, Carmenere, Viognier, Roussanne, Marsanne.

The Stubbs Vineyard, which we lease, measures three acres and is a five minutes tractor drive from our home vineyard. It was planted in 2006 with Roussanne, Marsanne and Syrah.

We also have had long term relationships with two wonderful growers on Osoyoos East Bench. The Kelliher vineyard is located two properties over from the winery, and the Dhaliwal vineyard is right next to the Stubbs Vineyard. We also buy small quantities of fruit for our Pinot Noir and Chardonnay from Martin Plut on the west side of the lake.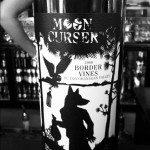 A beautiful wine is the 2009 Border Vines red blend, which received Decanter magazine's "Best Canadian Red" award last month. Here are the winery's description:
This is a dry, medium bodied wine. The nose shows good intensity with strong elements of dark berry and typical cabernet notes of cassis and blackberry. On the palate this mouthfilling wine has good weight and intensity, with highlights of plum and spice notes, and long smooth finish.
BC's best wine writer John Schreiner describes the origins of the new labels in a recent blog post:
The concept behind the label is to develop a story line around colourful local history. When gold was being mined in the southern Okanagan in the late 19th Century, those miners who wanted to take their gold to smelters across the border had to pay a royalty to the Canadian government. Naturally, a lot of gold was smuggled over the border at night, except on nights when the moon was bright. The smugglers came to be called moon cursers.

On this winery's labels, the smugglers are variously represented by a fox in silhouette, or a donkey in silhouette. The customs agents are represented by an owl carrying a lantern. The caricatures have the atmosphere of Halloween.

Everyone who sees these labels talks about them. And that's the point – to attention to this winery and its wines. The Tolleys had come to the conclusion that Twisted Tree was too bland and too easily confused with other Okanagan wineries (Tangled Vines, Oliver Twist). Nobody gets Moon Curser mixed up.
For tasting notes on the latest Moon Curser releases, read the rest of John's post.
Congratulations to Moon Curser's proprietors Beata and Chris Tolley. They took a risk on a daring rebrand of their wine, and it's paying off with oenophiles sitting up and taking notice.
– post by Mike