Bring your own wine comes to BC restaurants–corkage fees may apply
Latest modernization of BC liquor laws seen as a "win-win-win" scenario
In what is likely to be a very popular decision, the Government of British Columbia announced today that customers can now legally bring their own wine into participating restaurants and enjoy it with their meals. A so-called "corkage fee" may apply in some establishments, while other venues may not require one.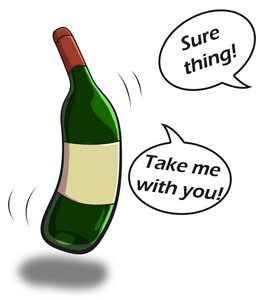 The local BC wine industry and other advocates have been championing the "modernization" of liquor laws in our province to benefit consumers, wine producers and the restaurant industry. This Bring Your Own Wine (BYOW) decision follows other key moves by the federal and provincial governments on liquor policy. Last month MP Dan Albas' Private Member's Bill C311 – allowing the personal shipment of wine over provincial boundaries – became law after receiving unanimous support from both the House of Commons and Senate.
Then last week, Minister Rich Coleman challenged other Canadian jurisdictions to allow the shipment of wine over provincial boundaries without any additional taxes. BC now allows wine consumers to order any amount of Canadian produced wine, and no BC provincial taxes will be applied.
Changing legislation, particularly when it comes to liquor, is a complicated affair, which is why the quick pace of change happening in BC has been remarkable. Minister Coleman and the BC government are likely to receive laurels for responding to the public demand for more modern liquor laws. Wine law expert Mark Hicken describes the change as a 'win-win-win' for consumers, wine producers and restaurant owners.
"There is no downside to this decision," says Hicken. "First, people often want to be able to drink a wine of their own choice. You might have a bottle stored away for a special occasion, and now you can bring it to your favourite restaurant. For BC wineries it's great because now you can buy a bottle in a local winery and bring it with you to a restaurant. And finally, restaurants that might have struggled to get customers in during a weeknight will have an extra incentive, such as lowering or waiving corkage fees on those evenings. It's just a great decision all round."
In Montréal the tradition of "Apportez Votre Vin" (Translation: Bring Your Own Wine) has made restaurant dining more attractive. In the UK, BYOW has been described as a "revolution" in the dining experience. There are even online listings of which restaurants allow BYOW, and what the corkage fees are (if any). Expect an enterprising web provider to follow suit in BC soon. BC follows neighbouring provinces Alberta and Manitoba, which implemented BYOW laws earlier. For a well-reasoned article on the benefits of BYOW, see this story at foodandwine.com.
We here at BC Wine Lover tip our hat to Minister Coleman and BC's restaurant industry for welcoming this important legislative change. Here is today's release from the BC government:
Bring your own wine to B.C. restaurants

Minister Rich Coleman announced today that British Columbians can now bring their own bottle of wine into participating restaurants and enjoy it with their meals.

"We want to provide our restaurant industry with greater flexibility in terms of the services it can offer to its customers," said Rich Coleman, Minister responsible for liquor. "Today's change does just that – it allows customers to pair their favourite wine with their favourite restaurant."

Patrons will be required to have the wine served in the same manner as wine selected from the menu and restaurants may charge a corkage fee for this service.

"The government continues to introduce common-sense solutions such as the Bring Your Own Wine program. This gives industry the needed flexibility to get people out and dine more," said Ian Tostenson, president and CEO of the British Columbia Restaurant and Food Service Association. "More business will result in positive economic impacts such as increased employment and downstream benefits to suppliers of the industry. This is a very innovative, flexible and common-sense policy."

This change is supported by the BC Restaurant and Foodservices Association and the Canadian Restaurant and Foodservices Association. Participation in this service by licensed restaurants is voluntary.

"Restaurateurs, especially those with limited wine inventories, welcome the option of allowing their guests to bring their own wine," said Mark von Schellwitz, vice president of Western Canada for the Canadian Restaurant and Foodservices Association. "This liquor policy change allows those restaurant guests who want to celebrate a special event by bringing a vintage bottle of wine from their own cellar to their favourite restaurant to do so."

Licensees are still liable if patrons are over-served or liquor service is provided to minors. As in other provinces, there are no plans to broaden this beyond wine to include beer and spirits.

"By allowing people to bring their own bottle of wine into their favourite dining establishment, we've provided restaurant owners with a great opportunity to create a new type of dining experience that will further promote our wonderful restaurants here in British Columbia," continued Coleman.

These changes build on the B.C. government's commitment to modernize B.C.'s liquor laws.
– post by Mike Klassen