MyWinePal: Celebrating OWEN Cabernet Franc and the BCHF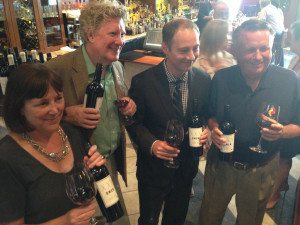 This is the second year of the Wine Campus at Okanagan Crush Pad.  The wine campus is a program to foster the education of professionals in the wine industry. Okanagan Crush Pad makes an annual donation of $5,000 to the BC Hospitality Foundation (BCHF) which goes toward a scholarship for students enrolled in a recognized and accredited wine program with either the International Sommelier Guild or the Wine & Spirit Education Trust.  In addition the winery opens it's doors to recipients of the Vancouver International Wine Festival's Sommelier of the year; inviting them to create their own vintage of wine (using the grape variety of their choice) at the winery. The winning sommelier is involved in the whole wine making process, from viticulture, grape selection, vinification and final blending, labelling and bottling.  The result is a unique 100 case production of this wine where the profits from sales will be directed to the Okanagan Wine Campus scholarship program.  I applaud winery owner Christine Coletta for providing these sommeliers with this opportunity, and for the funds raised to help other students.
Who is Owen Knowlton?
Owen Knowlton is the 2011 Sommelier of the Year, and the second sommelier to receive the opportunity to make wine with Okanagan Crush Pad (the first recipient is Kurtis Kolt). Owen is originally from Ontario before moving west.  He has travelled through Australia working working at various bars and restaurants in their wine regions before moving back to Canada.  Here, he was Maitre'd & Sommelier at the Rimrock Resort Hotel in Banff, then moved once more to Vancouver, where he was Maitre'd at the Le Crocodile French restaurant. Now he is at Westwhere he is the wine director.
OWEN Cabernet Franc 2011
As I mentioned the winner of the Okanagan Crush Pad offer to produce the 100 case production of wine has a choice in which grape variety to choose.  In Owen's case, it was theCabernet Franc grape, a grape that for many people is less well known than it's famous offspring,Cabernet Sauvignon, but should be more well known and enjoyed in my opinion. Cabernet Franc does very well in the Okanagan producing an expressive wine.
I am glad Owen selected this grape variety.  Other wineries like Tinhorn Creek's wine maker, Sandra Oldfield, also support, produce and promote wines from the Cabernet Franc grape. Owen indicated a similar sentiment to mine, and wanted Cabernet Franc to shine on it's own.  He decided to model the wine on the wines of Chinon from the Loire Valley, with fine tannins and smooth textures, yet still showing spicy ripe berry aromas that come from the Okanagan Valley.  The wines were aged in second, third and fourth-use French barrels so that you do not get overwhelmed by oak.
One of the unique aspects of Okanagan Crush Pad is their use of concrete egg fermenters, which were used for this wine.  The egg shape (which has temperature control tubing within the concrete) allows the flow of the fermenting wine to follow a circular circuit meaning the skins and pulp stay submerged by the must pumping over naturally (giving your continuous lees stirring). Concrete also is slightly porous, letting the wine breathe, like oak barrels, but not impart any oak flavour. The result of these two features, the result is wines with brighter and higher fruit notes, more creaminess (from the lees stirring), and pretty secondary aromas that would not not find in wines fermented in stainless steel.
My Tasting Notes on OWEN Cabernet Franc 2011
The OWEN Cabernet Franc 2011 was poured into glasses for us to taste, but did not have a long time to breathe, which kept the aromas of this wine quite subdued.  With a longer time exposed to air, I think this wine would be more expressive on the nose.  In particular I did not get any cedar notes on the nose, but it was there on the palate.
Nice, medium ruby colour. A bit of perfuminess and some meatiness on the nose.  The nose is a bit closed. Medium body, dry with a round mouth feel. Nice ripe juicy red and black fruit flavours with a slight undercurrent of minerality.  You can taste the cedar flavour imparted by this grape.  Quite peppery starting mid-palate.  Silky tannins.  A wine to drink now to enjoy with the summer bbq or maybe a pot roast this winter.
Appetizers by West
With any wine, food is best enjoyed.  West Restaurant, hosting this event, as Owen Knowlton is the wine director, provided us with various appetizers, to go with the OWEN Cabernet Franc as well as a sparkling wine, Alison, and a Pinot Gris from Okanagan Crush Pad.  Enjoy the food pictures.  I hope I adequately described them.  If not, I am sure someone at West will correct me.
***
Be sure to check out Karl's website – MyWinePal.com!