Stacey and Mike set for a Similkameen Adventure
Tomorrow we begin our 10th annual wine travel excursion from Vancouver out to BC's beautiful Okanagan Valley region. Over the decade we have made many friends and have learned much about this industry. After being kickstarted by new cross-border trade rules, the BC wine industry truly came into its own approximately 20 years ago in the early 1990s. Since that time the arable regions have expanded into wonderful sub-appellations such as the Similkameen Valley.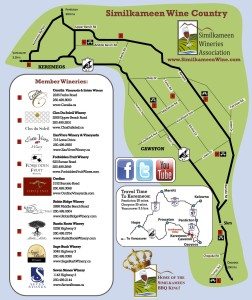 For most BC wine travellers from the coast or Alberta, the Similkameen Valley (pronounced SIM-ILL-KA-MEEN) has either been a place to pass through, or overlook. On our tenth summer wine trip, we have decided to make Similkameen Valley wines a centrepiece of our journey. Why we're doing this is simple – the wines are fantastic. Last year Eau Vivre Winery put the region into prominence by winning the first ever Lieutenant Governor's Awards for Excellence for their 2009 Pinot Noir. But many other wines have won international and local recognition for excellence over the years.
How we're doing it is a different story. The Similkameen is not your traditional travel destination. It is farm country that is lacking in accommodations and other attractions that typically attract the tourist crowds. That is not to say there are not many fun things to do, it is just that a short drive away you have big lakes for swimming and boating, as well as several hotel chains.
Since we have begun travelling to the Okanagan we have found the drive along Highway 3 (aka Crow's Nest Highway) to be more enjoyable. It certainly is a more beautiful drive than taking the Coquihalla (Highway 5), and if you are staying anywhere from Penticton to the USA border it is about the equivalent driving time. On our upcoming visit we are staying two nights at an affordably-priced full service hotel in Osoyoos, BC. It is from here that we will be venturing out to the Similkameen wineries.
It is not hard to justify the trip. To get from Osoyoos to the Similkameen along Highway 3 is about 25 minutes – here's a great map, or open the image to the left. That's roughly the equivalent of driving north to Oliver, BC, where you'll also find a cluster of amazing wineries. We've also heard great buzz about the food choices in the Similkameen Valley. There is Branding Iron Bar & Grill, who was named 2013 Similkameen BBQ King–great video, btw), and Benja Thai Restaurant, the place we plan to dine after our wine travel.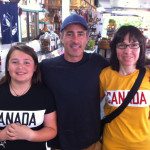 We always like to plug the best fruit stand in the valley – Parsons Fruit Stand, right on Highway 3 just west of Keremeos, BC. Proprietor Quentin Parsons is an old friend of BC Wine Lover. His locally grown fruit and vegetables are pesticide-free and delicious. He also has several local food products on his shelves, and be sure to buy a container of their amazing garlic scape salt. We've grown so fond of this salt, which enhances the flavour of so many dishes and steamed vegetables. Follow them on Twitter @ParsonsFarm.
We've visited many of the Similkameen wineries before (Orofino, Eau Vivre, Seven Stone, Crows Nest), but there are still some we would like to make our first stop (Clos du Soleil, Robin Ridge, Herder). Which ones to go to will require a little juggling, but we are likely to start the morning at Eau Vivre, who are still glowing from winning the LG award for the second straight year. The 2010 Pinot Noir is almost sold out, so we've heard. Since we stopped by last year they have expanded their selection – they now have a Riesling, Malbec and Cinq Blanc (white blend) in addition to their Chardonnay, Gew, Pinot Noir, Cab Franc, Buddafull and more!
For links to all the wineries in the region be sure to check out the great website from the Similkameen Winery Association. See also the great posts by Erin Korpisto on her Similkameen wine travels here and here.
Here's a gallery of photos from our last visit to the valley. For more photos of our 2012 wine adventure see our Flickr set.