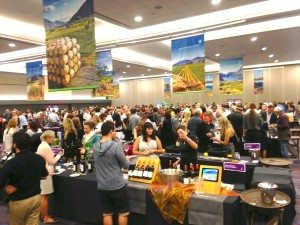 The folks at the BC Wine Institute – and their marketing team at WineBC.com – outdo themselves each year, by bringing some of the best of the BC wine industry to a single venue. The fall event – which comes at a challenging time of year for winemakers gearing up for harvest – is called Colour. It is largest annual tasting of BC VQA wines in Vancouver, with over 75 BC wineries, showcasing more than 300 BC VQA wines.
Geared toward the media and trades only, the floor is filled with wine lovers, with many of them members of BC's restaurant and hospitality industry who might be sipping the selections for the first time. WineBC.com bills it as a chance to "explore British Columbia's bountiful wine growing regions and celebrate BC VQA's fresh new releases."
Indeed, it is. For a few hours in downtown Vancouver you get to meet "the inspiring people behind the wines as you taste the flavours of their exceptional fall releases". Stacey and I, as well as a couple of BC wine Twitterati managed to capture the occasion in several tweets, which we've featured below.
And because neither Stacey nor I could attend an earlier exclusive tasting that contrasts BC's best next to international wine selections, we had to share this tweet.
Thanks to the BC Wine Institute and their marketing team at WineBC.com. Another great showcase of what BC has to offer!