John Clerides – photo by Marc Smith
Vancouver wine lovers have depended upon the fantastic selection and top notch service of Marquis Wine Cellars on Davie Street for 27 years. Today the store announced that its long-awaited expansion is complete. Owner John Clerides is one of BC's most passionate advocates of wine culture, and Marquis Wine Cellars reflects his eclectic tastes and his eye for what the customer wants. Here below is the store's announcement…
One of Vancouver's Original Wine Stores Expands
Marquis Wine Cellars expands to meet the needs of a thriving wine culture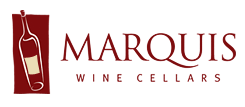 One of Vancouver's original wine stores, Marquis Wine Cellars, announces the grand re-opening of the more than 3000 square foot expansion. The expansion and renovation to the existing store has more than doubled the size of Vancouver's leading private wine store to meet the demands of Vancouver's growing wine culture.
After 27 years in business, pioneer shop Marquis Wine Cellars new expansion now boasts 2,645 square feet of retail space. As the liquor law landscape has changed over the almost three decades since the store's opening, Marquis Wine Cellars has evolved to accommodate British Columbia's growing wine culture. To meet the public's demands, the new space is equipped with a state of the art 3,000 bottle temperature controlled wine room, private event space, and is the first to have a sixteen bottle wine dispensing machine serving half ounce wine samples. Marquis Wine Cellars also fills a premium niche, providing more than 2,000 wines to choose from and personalized services that can hand-deliver unique wines to homes or businesses.
Owner and innovator John Clerides is pleased to expand to allow for more unique, hand-sourced wines. "I've seen the changes to British Columbia's wine culture here at Marquis over the last 27 years: consumers travel frequently and are more educated and adventurous in their wine selections. Interest in wine has become more mainstream," Clerides notes. "There's also a great interest in unique wines not available at general liquor stores – which we source at wine enthusiast's requests." Clerides says he is "excited to see the interest in BC's wine community grow over the years," and that he looks forward the future with the grand re-opening.
Marquis Wine Cellars is a private wine store owned by John Clerides, located on Davie Street in Vancouver since 1986. Known throughout Western Canada as the leading retailer for wines from the world's top producers, Marquis sets itself apart due to the relationships it has created with its winery suppliers and store customers. A loyal following of wine lovers regularly visit Marquis Wine Cellars for collectible vintages, including Bordeaux futures, as well as everyday gems that have been discovered by John and his team as they travel the world in search of great wines. For more information and online ordering visit www.marquis-wines.com.