Wine Travel With a Canine Companion
Our experience of bringing our dog to BC wine country
At the end of May, we had an opportunity to head up to Penticton for two nights. Because of short timing on leaving, and not having anyone handy to house-sit, we decided to bring along Fraser, our greyhound, as a bit of a test to see how easy or difficult it would be to travel with a pet.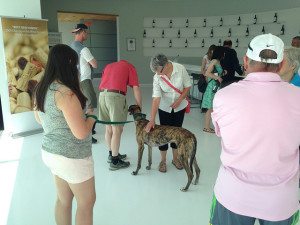 People tend to view greyhounds as excitable, hyper dogs who need to run a lot. On the contrary, greyhounds are typically docile – practically couch potatoes – that would rather sleep and lay around than get out for a morning jog or hike up the mountain. Greyhounds are usually very social, which made Fraser a good candidate for our trip (he often became the centre of attention at wineries). The drawback is that Fraser is not the best traveler when in the car, as he gets pretty agitated. Also, the limitations on hatchback space are challenging, and luggage would have been an issue if we were away for any longer than a couple of nights.
While there are pet-friendly hotels and vacation rentals in the Okanagan, some places do have restrictions on how large your dog can be. While our pup is skinny, he still weighs in at about 70 lbs, so would not be accepted in some spots. I chose to use Pet Friendly Accommodations in BC and decided that the Penticton Lakeside Resort was the best fit for us. The hotel charges a one-time $25.00 cleaning fee for bringing a pet, which I felt was very reasonable. With the reservation made, we were set to go.
I won't get into the details of the commute, although we did need to make a few extra rest stops en route to give Fraser a break from the car. This worked out well, as it gave us an excuse to pick up ice-cream cones in Princeton, and the opportunity to have a nice visit with our pal Quentin Parsons at Parsons Farm Market in Keremeos. Upon arrival at the Lakeside Resort in Penticton, we were checked in without a hitch, and the Lakeside Resort provided with a "care package" for Fraser, which included a large bag of treats, some poo-bags and some other doggy goodies.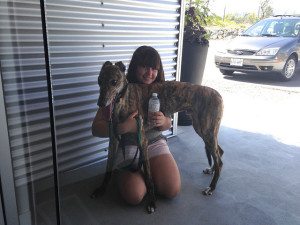 For the most part, bringing Fraser wasn't difficult. There were challenges visiting places that served food, but he was welcomed in the wineries at Painted Rock, Noble Ridge and Wild Goose Vineyards while we did some tastings. If we were at a place that he wasn't allowed into, our daughter Sophie would stay outside with him (Fraser is always on-leash in public), and we would take turns taking him for short walks and providing water breaks. One of the highlights was taking Fraser to the Penticton Farmers Market on the Saturday, where there were lots of people and dogs to meet.
Overall, it was a good experience bringing Fraser on our mini-holiday. We learned that you have to be really organized when traveling with a pet, and having a pet travel checklist (any number of which can be found by searching online) was essential. Aside from being in the car, Fraser adapted well in different surroundings, wasn't anxious and seemed to enjoy his time with us. I would happily take him on future short trips, but probably not for longer than a few days, as having him along did limit our ability to get out to restaurants and other non-pet friendly places.
See our photo album on Flickr of the trip!