VIWF 2017: Canada theme region shines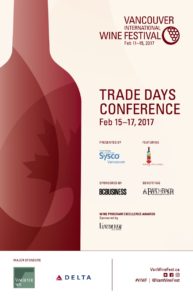 Each year, Vancouver International Wine Festival (VIWF) provides thousands of oenophiles and new wine drinkers alike with new discoveries, and 2017 was no exception. This year the festival had Canada as its theme region. Here in British Columbia, where the industry seems to be booming, celebrating Canadian wine seemed only fitting. Even better, Canada's wine showcase was timed for the country's 150th anniversary of confederation.
However, as festival organizers might tell you privately, Canada is still a risky bet in the eyes of many wine consumers.
Fortunately, the 2017 festival proved that Canada's wines exhibit enough quality and maturity to meet the high expectations of the thousands who descended upon the Vancouver Convention Centre between February 11 – 19th. If there was one group of wineries that could have had a larger representation it was Ontario, though those that did show up to pour still impressed.
Wines from Nova Scotia, particularly the sparkling wines, elicited the most curiosity from festival patrons judging by the crowds surrounding their booths. As brands go, Benjamin Bridge is a name we are starting to hear much more about, even here out on the left coast. Our Flickr images below capture some of our most interesting sights and sips on our 2 visits to the international tasting room.
For more information on the festival, including information on the 2018 program for next year's Spain and Portugal theme region, visit https://vanwinefest.ca/.
VIWF Trade Days — Industry Symposium
"The Wine Economy in Canada"
Photo album from VIWF 2017 & Industry Symposium
During its popular Trade Days program, VIWF hosted an Industry Symposium (tickets $125) with many esteemed representatives from Canada's wine and culinary sectors as speakers and panelists.
The day was broken up into several panels on a variety of subjects. BC Wine Lover was invited to live tweet and Facebook live the day's proceedings. To view the video recordings of the panels visit this link and see the 2017 VIWF Industry Symposium playlist. The Symposium was sponsored by WSET and the participating wineries.
Live Tweets from VIWF Industry Symposium
Highlights of the day's conversations are captured in the following Twitter Moments.
**Feature photo: Karen Graham seated beside Anthony von Mandl (Mission Hill Family Estate).