The Wine Islands showcased on TV interview
As big fans of "the Wine Islands" – wines grown on Vancouver and the Gulf Islands – it is a delight to see two leading figures from that region getting invited to speak with passion about what they do. Shaw TV in Nanaimo sat down for just about 30 minutes to speak with longtime winemaker Roger Dosman of Alderlea Vineyards. Alongside Roger is our friend Mike Nierychlo of Emandare Vineyard. Both were invited to speak as representatives of the Wine Island Growers Association ("WIGA").
It is particularly fun to watch Mike's passionate explanation of the vines themselves, including bringing in some old wood as props.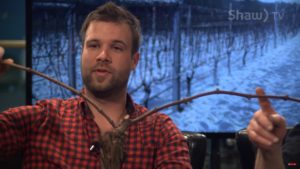 This 27-minute chat is a good way to get to know some of the history of the past 25 years of Vancouver Island winemaking, as well as some of the exciting evolution of Island wines with the arrival of Emandare and other new wineries. This is "must-see" viewing for anyone wanting to learn more about BC's diverse wine regions.