Big BC wine industry changes bring strong reactions
The news on Monday morning came like a thunderclap to both people working in the BC wine industry, as well as to consumers and the BC wine sector's many enthusiasts. Some of BC's most beloved and storied wineries would be bought by Andrew Peller Limited, one of Canada's leading wine producers and marketers. The news release began with these words:
GRIMSBY, Ontario, Sept. 11, 2017 (GLOBE NEWSWIRE) — Andrew Peller Limited (TSX:ADW.A) (TSX:ADW.B) ("APL" or the "Company") announced today that it has signed definitive agreements to acquire 100% of Black Hills Estate Winery and Gray Monk Estate Winery and has entered into a letter of intent to acquire 100% of Tinhorn Creek Vineyards, for a combined purchase price of $95 million. The three estate VQA wineries in British Columbia's Okanagan Valley generated total revenues of approximately $25 million in their latest fiscal years. The purchase will be funded by a combination of $78 million in cash from the Company's credit lines and $17 million worth of Class A common shares. The company expects to close all of the transactions on or before the end of October 2017.
An independent view on the sale and acquisition of these wineries was posted on Facebook by lawyer Al Hudec, who has worked for several wine industry clients. Here are some of his comments on the sale (shared with his permission):
Andrew Peller is paying in aggregate $95 million for the three wineries (including the $17 million of Andrew Peller shares being issued to the Heiss family as partial consideration for Grey Monk). Together, the three wineries had production last year of 125,000 cases and sales of $24.5 million, and own 250 acres of vineyards.

The three Peller acquisitions represent the most significant industry roll up since Don Triggs created Vincor and consolidated Inniskillin, Sumac Ridge, Hawthorne and other successful wineries almost twenty years ago. The acquisitions make Andrew Peller the largest domestic wine business in English Canada and the largest producer of VQA wines in British Columbia. The three new wineries join Andrew Peller's existing portfolio of premium VQA wineries in British Columbia – Sandhill, Red Rooster and Conviction (formerly Calona Vineyard's VQA Artist Series Brand) and Trius, Thirty Bench and Wayne Gretzky in Ontario.

The transactions will undoubtedly add to the ongoing industry debate about whether the larger or smaller producers contribute more to the development and reputation of the Okanagan wine industry. Many of the smaller winery owners are distrustful of the larger wineries who, in addition to operating boutique wineries, also derive significant revenues from the sale of cheaper wines blended from foreign and domestic grapes. As a result, as the argument goes, the interests of these larger wineries are not aligned with the interests of the smaller owner operated wineries.

Certainly, George and Trudy Heiss of Grey Monk, as industry pioneers, contributed immensely to what the Okanagan wine industry has become. Sandra Oldfield of Tinhorn Creek, is an outspoken industry leader who put sustainability first in everything she has done. Glenn Fawcett built Black Hills into a luxury brand worthy of the Area 27 crowd.

Black Hill Estate Winery "Nota Bene"

But the large wineries also have a role to play. Andrew Peller intends to invest $25 million in its Western Canadian wineries in the next five years, increasing the collective annual revenues of its new BC acquisitions from $24.5 million to $30-$35 million per year over the next five years, and increasing normalized EBITDA ("earnings before deducting interest, taxes, depreciation and amortization") from $8.2 million to $15 million annually. This will be achieved through capital investment in vineyards and wineries; increased sales and margin expansion through the leveraging of its national sales, and marketing capabilities across Canada; and operational efficiencies in production and packaging.

The smaller owner operators contribute their entrepreneurship and innovation to the growth and reputation of our industry. But often it is the larger, better capitalized wineries, with their strong internal sales and marketing groups, that have what is necessary to take a successful winery to the next level when it's founders are looking for an exit. Both small and large wineries play important roles in the success of our Okanagan wine industry.
Harry McWatters, who has been involved in many large wine industry transactions in his lengthy career, told wine writer John Schreiner, "Andrew Peller did what they thought was best to position themselves competitively locally and globally into the future. As of today, I would say the B.C. wine industry just grew up a little more!"
With respect to the purchaser, it should be noted that John Peller, Andrew Peller Limited's CEO, demonstrated some significant goodwill last year by pledging to address concerns raised by small and medium producers over brand confusion on what constitutes wines of Canada. Andrew Peller Limited produces some of the country's top-selling wine products made from grape juice imported from outside the country, known as international-Canadian blends or "ICB" wines.
For those who watch the industry closely, the purchase of Black Hills Estate Winery did not come as a shock. After all, a lot of wineries are for sale in B.C., and rumours had swirled during the summer months that it was about to be bought. Owned by a consortium of individual shareholders, Black Hills Winery had always marketed itself as an "ultra premium" wine producer with a small, but passionate customer base for its labels, particularly Nota Bene, a Bordeaux style red. John Schreiner accurately describes it as "the most coveted cult wine from the Okanagan."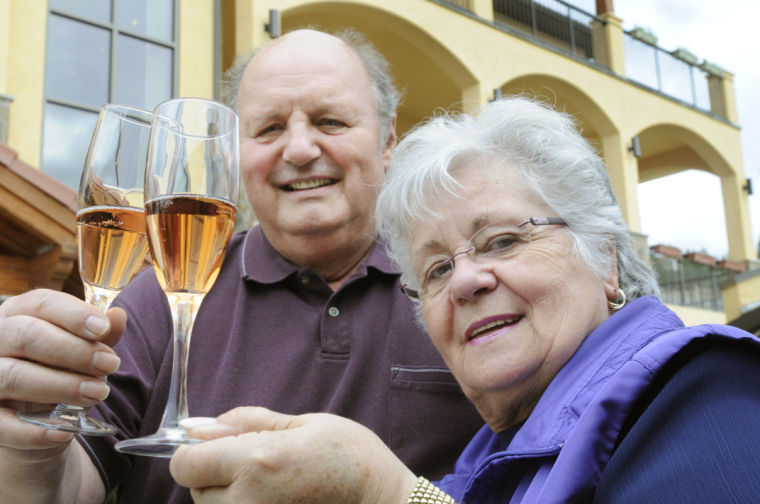 The sale of Gray Monk was surprising by comparison. Established in 1982 by industry legends George and Trudy Heiss, their winery (based in Lake Country, BC, 45 minutes north of Kelowna by car) was among the first estate wineries in the province, and one of its largest producers. However, after a stellar career it would come as no shock to anyone that the couple would want to retire.
John Schreiner sums up the Heiss' situation like this:
At family-owned Gray Monk, founders George and Trudy Heiss are well past retirement age: George was born in 1939 and Trudy in 1940. For several years, they have examined options for transferring the assets either to a succeeding generation of the Heiss family or to a purchaser with values compatible their theirs.
If the reaction from many within and outside BC's wine industry come across as somewhat emotional, credit the deep appreciation of Tinhorn Creek's Sandra Oldfield. This is because over the past 5 years no one has single-handedly built up the industry's reputation among existing and new BC wine enthusiasts (and simultaneously, her own brand) as much as Sandra. A California girl by birth, Sandra became synonymous with passion, integrity, and British Columbia wine. She founded and helped grow Tinhorn Creek over the past 20 years.
One of the most endearing qualities I picked up about Sandra when first meeting her during a "Crush Club" event, is her unpretentious approach to the world of wine. She is the consummate reverse wine snob — someone who always welcomes newcomers and never condescends to those still learning to appreciate wine.
One of her great legacies is the weekly Twitter town she originated called #BCWineChat. The social media meet-up is also an egalitarian affair, usually hosted by Sandra or many other 'guests' when she is unavailable. I have had the pleasure of hosting a few BCWineChats myself over the years. Somehow there is nothing quite as exciting on a Wednesday evening is getting #BCWineChat to trend on Twitter.
Though Tinhorn Creek has been co-owned by proprietors Bob and Barb Shaunessy, and Sandra Oldfield and her husband Kenn, the heart and soul of the winery has been Sandra and her team. Tinhorn's viticulturist Andrew Moon and winemaker Andrew Windsor have helped to grow the winery's gigantic reputation across Canada.
The winery itself became a bit of a south Okanagan landmark thanks to the opening of the Miradoro Restaurant, and the neighbouring grassy amphitheatre that hosted dozens of live concerts each year.
Lastly, we can credit Sandra for leading the charge when it came to creating the Golden Mile Bench sub-geographic indication (also known as a sub-appellation or viticultural area) — the first in British Columbia's young wine industry. As she tells it, establishing the Golden Mile Bench was a seven year odyssey mired with bureaucratic red tape.
This Thursday Sandra has indicated she will respond publicly to the news of the sale of Tinhorn Creek on her blog. It is expected that she will let us know what is in store next for her and her family. What we can all hope for is that we have not seen the last of Sandra when it comes to BC wine. She's a true maverick, and wine culture in Canada would not be the same if not for her.
The emotional reaction to this change in the industry prompted this sage advice in a Facebook post from Okanagan Crush Pad proprietor Christine Coletta:
Today some of my wine friends have had some very big shifts in their lives. I know these people well enough to know that their biggest focus will be on their employees – the people that are the nuts and bolts of their wineries. Stay the course. Do what you are passionate about and be open minded to change. And know that the rest of us are with you.
UPDATE: Sandra Oldfield's blog post in response to her departure from Tinhorn Creek.
** Feature photo credit: Stacey Fruin, Sandra Oldfield, Mike Klassen at 2013 Wine Bloggers Conference in Penticton – see Flickr album