The forecast calls for smoke — BC wine impacted by weather and wildfires #BCWine2017Top10
#BCWine2017Top10: Number 3
The "Top 10" BC wine stories of 2017 continues, once again acknowledging how our environment has the power to change the fortunes of BC winemakers overnight.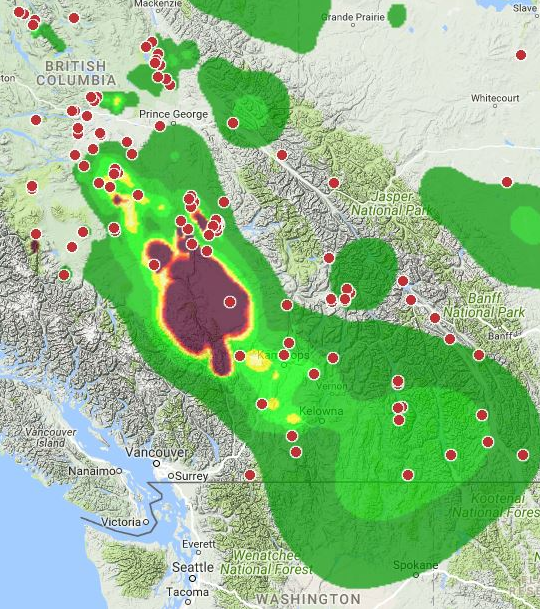 BC wine country like most of the province was hit hard by persistent smoke from wildfires in the province's Interior. The smoke and haze ultimately defined 2017 from a tourism perspective, leading to fewer visits in tasting rooms and missed sales targets.
When it comes to the wines themselves, the persistent haze will not imbue the characteristics of the 2017 vintage. In fact, in some cases the haze cooled temperatures allowing for longer ripening of the grape harvest.
Consulting winemaker Bradley Cooper (Black Cloud, Daum Cooper Winery Services) told BC Wine Trends:
There was a bit of a delay to the growing season as the spring stayed cool for a little longer than we'd expect.  Once flowering and fruit set was finally underway, the long, warm and a little smokey summer got cooking.  I don't know if it was the delayed spring, the late set or the smoke filtering out the sun but at the end of the year, my sources had picked 20% less fruit than their average harvest number.
However, the smoke also held some more dampness in the air, leading to a spread of damaging powdery mildew across many vineyards.
Jak Meyer (Meyer Family Vineyard) told BC Wine Trends about one of the biggest impacts of the haze:
In the late summer, the high overhead cloud of smoke trapped in humidity. This caught some growers off guard with an unpredicted bout of powdery mildew.  We had a maintenance spray program which fortunately protected us. Some vineyards had significant loss especially Chardonnay.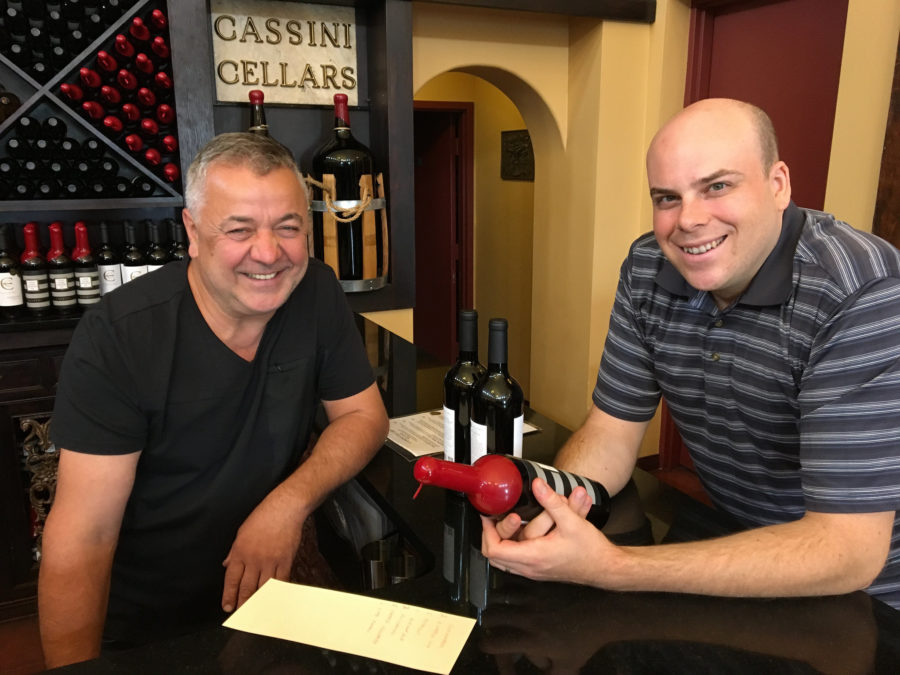 On our August Okanagan tour, several winemakers we spoke to described their weather-related challenges. Adrian Cassini (Cassini Cellars in Oliver, BC) told us how the weather wreaked havoc on a block of Chardonnay vines. Spring rains led to heavy growth of the vines. When the weather suddenly turned hot, poor circulation and smoky skies resulted in powdery mildew set in amongst the leaves. Cassini's Chardonnay block took a huge hit, effectively wiping it out for the year.
Winemaker Mark Simpson (BC Wine Studio, Siren's Call) describes a challenge-filled growing season in his interview with BC Wine Trends:
2017 was a wet spring that brought with it disease pressure and a later fruit set.  Some growers experienced bunch rot and cutworm damage.  The reduced yield came from 3 weeks of rain in May leading to a weaker fruit set and smaller cluster formation.  We had a hot summer but 3-4 weeks of shade from the wildfire smoke decreased heat units.  The sugar content is down a full percent over previous years. So, 2017 is a normal year for sugars, whereas the previous 4 years have been hotter than normal and delivered higher sugar and alcohol levels.
It is a rare summer when everyone prays for rain to save the tourist season, but that is exactly what happened. On our 12-day stay the blue skies only arrived after a refreshing but too short squall.
Environmental conditions continually make BC Wine Lover's "top" stories because, well, making wine is farming. As a winemaking region that still maturing, British Columbia will learn to adapt to what Mother Nature — and a dollop of climate change — serves up.
Fortunately, everyone is learning from it, and the wines keep getting better as a result.
Album: Okanagan Wine Travel — August 2017
Our 2017 Okanagan photo album, showing more days wrapped in smoky haze than those without. We still had a delightful stay in BC wine country!
Recommended reading:
BC Wine Trends: BC Winemaker's Thoughts Vintage 2017
My Wine Pal: Tell Me About the BC 2017 Harvest – Wine Makers' Interviews
Feature image credit: tiny robot animation