The story of Ziggy – a dust-up with a grocery giant #BCWine2017Top10
The BCWineLover.com tradition of documenting the top #BCWine stories of the year continues. For 2017, we are producing each category as a separate post (with a "Top 10" list final post). This is the first of ten posts, which will be posted over the next few days. Previous year-end wrap ups are available here and here.
#BCWine2017Top10: Number 10
This is an odd story that would barely make the "top stories" list if not for the significance of BC's emerging "wine in grocery" marketplace. The story, as reported in this update by one of BC's best wine documentarians and critics Karl Kliparchuk, is that mega grocery corporation Loblaws filed a copyright claim against a wine label produced by a tiny Vancouver Island winery called 40 Knots Vineyard and Estate Winery. Luckily, owners Brenda Hetman-Craig and Layne Robert Craig are fighting back.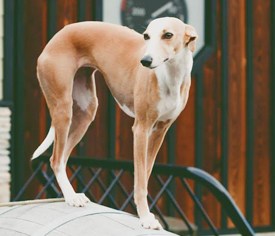 The winery has an adorable whippet named Ziggy, which is a riff on the winery's Siegerrebe (pronounced see-geh- RAY-buh) grapes. Siegerrebe is a vinifera grape we see planted in Germany (where it originates from) and cooler growing areas like Vancouver Island, the Fraser Valley and Shuswap.
The grape's name sounds just like "Ziggy", and the winery decided this would be an apt name for one of their wines. Ziggy Siegerrebe will pair beautifully with the fresh shellfish dishes harvested from nearby coastal waters.
Loblaws has reportedly purchased licenses to sell BC wine in a selection of their stores within the province. It was an initiative of the previous BC government that has stirred plenty of controversy. Given that Loblaws is already facing severe damage to its reputation thanks to getting caught for price-fixing on bread products, and the fact that the company wants to curry favour with the province's wine producers to sell their products, it might be a good idea if the corporation's grocery division stops flexing its muscle and uses a little common sense by ending its legal bullying of a small business owner in a fledgling wine region.