B.C. wine properties fetched in record breaking sales – #BCWine2017Top10
Andrew Peller Ltd. CEO John Peller
BC's bourgeoning sub-appellations turn grapes into gold
#BCWine2017Top10: Number 1
Dear readers, we present to you the Number 1 story on our "Top 10" BC wine events of the past year! The sale of three major wine labels and significant vineyard acreage to Andrew Peller Ltd. was the biggest bombshell that landed just prior to the grape harvest. It was followed by other reverberations that shook the industry.
It started with news just past 9 o'clock in the morning on September 11th, an ominous date if there ever was one. Anyone in the BC wine social media community would have caught the release from Vancouver Sun columnist and oenophile Anthony Gismondi.
A huge transaction, like the ones you only see once in a decade, had just happened. Canadian (Ontario-based) wine producer Andrew Peller Limited had signed a deal to buy for a reputed $95 million three of BC's best-known wine companies. Each owned substantial acreage in the coveted south Okanagan Valley, arguably Canada's most-favourable wine growing region.
BCWineLover.com was among the first to weigh in on the transaction, and what it would mean to BC's fledgling wine sector. While it was greeted with a level of shock by some, those who've watched the sector evolve over the past generation would see that the Andrew Peller company — one of the so-called "big three" wine companies in BC, which includes Arterra (formerly known as Constellation Brands/Vincorps), and Mission Hill/Von Mandl Family Wines — have been invested in the wine business in our province for a long, long time.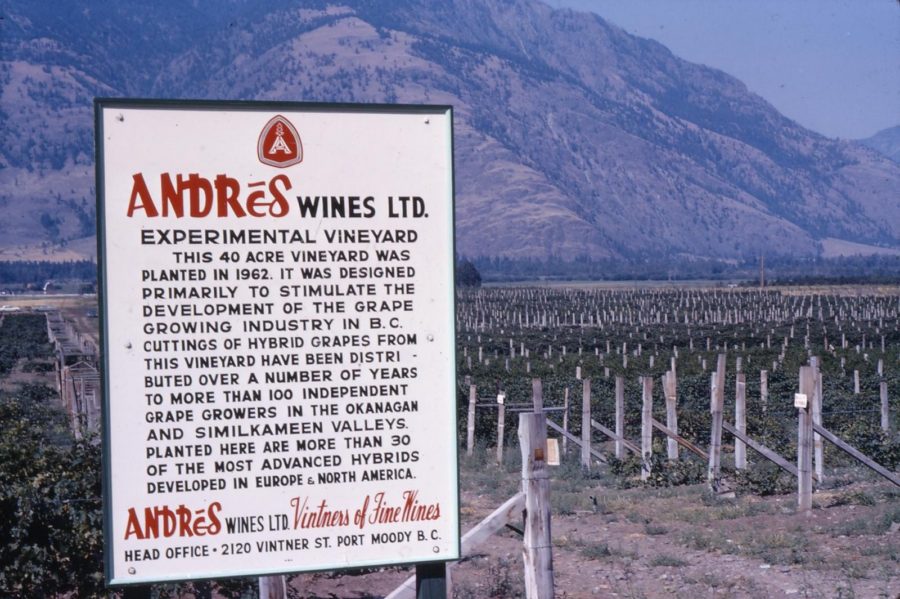 In fact, the company has been growing grapes for wine products for generations. Eminent wine writer and industry documentarian John Schreiner has looked back at some of the earliest activity of the Peller family on his blog. The Peller Family first planted hybrid varieties in the Similkameen Valley in 1962 (the year I was born!). They also own some of the most coveted terroir on the Black Sage Bench near Osoyoos — where grapes for the finest Sandhill Bordeaux blends by winemaker Howard Soon were sourced.
Schreiner writes:
"APL got its start in 1961 when Andrew Peller, a former Hamilton brewer, established what was then known as Andrés Wines Ltd. in Port Moody, a Vancouver suburb. He had previously applied for a winery license in Ontario but the conditions set down by the province would not have made the business viable…
"APL's Okanagan footprint was limited to some vineyard holdings until 2005. In that year, it bought Calona Wines, its sister premium producer, Sandhill Wines, and the Red Rooster Winery on the Naramata Bench."
Peller's Naramata Bench winery property will be more noteworthy when you read on…
Video: Gismondi on Wine looks at Phantom Creek
While some despaired upon hearing about the Peller purchase, others saw it as the natural evolution of the BC wine business. Black Hills had since its inception been an investment property (owned by up to 456 shareholders), though it always focused on making exceptional wine. Gray Monk built a large and lasting business around excellent, accessible wines. The Peller sale gave Gray Monk's founders George and Trudy Heiss a succession plan for themselves and their family.
Where it possibly got complicated for industry observers is with Tinhorn Creek Vineyards. The winery was strongly associated with its omnipresent CEO and co-founder Sandra Oldfield, whose own reputation as an industry advocate fortunately superseded the sale of the winery she had helped build from scratch over 20 years. See BCWineLover.com's "Number 6" story of the past year about Sandra here.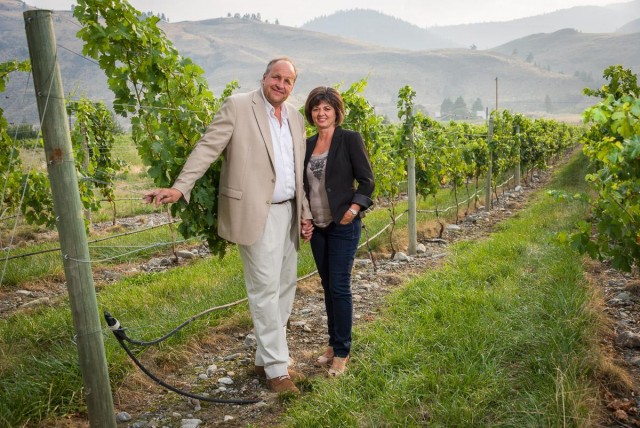 The sale of established wineries to major companies did not end with the Peller acquisition, however. The next shoe to drop was the news that Phantom Creek would purchase significant acreage from the Jentsch family, proprietors behind C.C. Jentsch wines. The winery has only been in business since 2013, but quickly earned a reputation for quality after its Syrah won the "Judgment of BC" competition judged by wine industry legend Stephen Spurrier.
Phantom Creek Estates is being funded by China-born Richmond-based businessman Richter Bai, and will feature a 72,000-square-foot winery on Black Sage Road with a restaurant and amphitheatre. The winery hired BC wine industry legend Ingo Grady, formerly of Mission Hill, as president.
Bai is one of a handful of buyers from China who have taken an interest in BC wine, something that has caught the notice of media reporters wary of China's real estate acquisitions in Canada.
Phantom Creek is only the largest of a number of major winery purchases by China-based buyers that include Township 7 Winery, Bench 1775, and Mt. Boucherie Winery.
In each of these examples, all report that the new owners have made significant investments in equipment and resources that enhance the making of wine. Township 7, for example, are building a new winemaking facility at their Penticton location. Mt. Boucherie and Bench 1775 are both at the top of their game, with exquisite releases earning raves at home and abroad.
Then, later that month came the news of another winery being sold. It was all becoming a bit too much for industry observers. Were wineries we have grown to know and love all on the auction block? Well, yes and no.
In the latest example, it was Laughing Stock Vineyards located on the Naramata Bench that was being sold. Owners David and Cynthia Enns made the sale to Arterra, one of Canada's largest wine and beverage companies. Arterra was formerly part of the multinational Constellation Brands company that own Sumac Ridge, Jackson Triggs, Inniskillin Okanagan, See Ya Later Ranch and partner with the Osoyoos First Nations band at Nk'Mip Winery.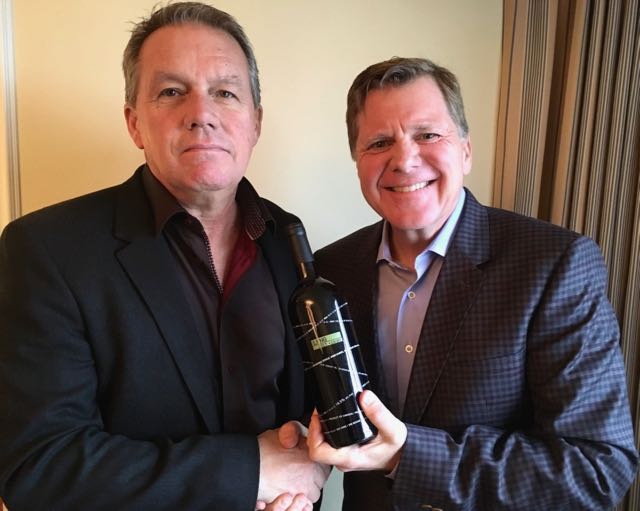 Arterra CEO Jay Wright told BC wine writer Tim Pawsey in his exclusive report about the sale:
"I'd always dreamt about the Naramata Bench and finding an iconic winery to partner with. It helps speed up my dream. That is to get us focused back on Canada, on the appellations which are spectacular and on the entrepreneurs who have the dreams and creative juices to drive the legacy forward."
What jumps out about Wright's statement is that the company is so eager to become a part of the Naramata Bench, which is arguably Canada's most-coveted (as yet to be officially designated) wine sub-appellation, and a significant part of the Okanagan wine experience.
Arterra now joins fellow Canadian wine mega-corps Peller and Von Mandl Family Estate in having a foothold on the Naramata Bench.
Wine industry analyst Karen Graham describes 2017 as one of "Consolidation and Investment" for the BC wine industry. While there is truth in that observation, what we are witnessing are some big players attaching themselves to some of the most celebrated wine sub-regions in the country—the Naramata, Black Sage, and Golden Mile Benches.
We will look back at 2017 as a year of significant change. As industry legend Harry McWatters succinctly put it, this year "the B.C. wine industry just grew up a little more."
While the changes might induce some anxiety among BC wine lovers, I think we will look back on these investments as positive ones that will help to grow the industry, and wine culture in Canada.
Video credit: Gismondi on Wine