400 guests cannot be wrong! Lillooet's @FortBerens fêted in "mystery" wine pairing
From our good friends from Fort Berens Winery in Lillooet, BC, comes the following bulletin.
The 2018 Canadian Culinary Championships, held recently in Kelowna, brought together eleven of the country's top chefs for the prestigious Gold Medal Plates competition. The competing chefs participated in a series of tough challenges, including the Mystery Wine Pairing Competition.
In the Mystery Wine Pairing Competition, Chefs were given a mystery bottle of wine and they were challenged to create a dish with local ingredients that best complemented the mystery wine in a set amount of time and with a set budget. Each chef then served this dish to 400 guests, who had the opportunity to vote on their favourite pairing of the night.
While the competing chefs and guests were held in suspense until the end of the event, the suspense finally ended when it was announced that the mystery wine was the 2016 Pinot Gris from Fort Berens Estate Winery in Lillooet, BC.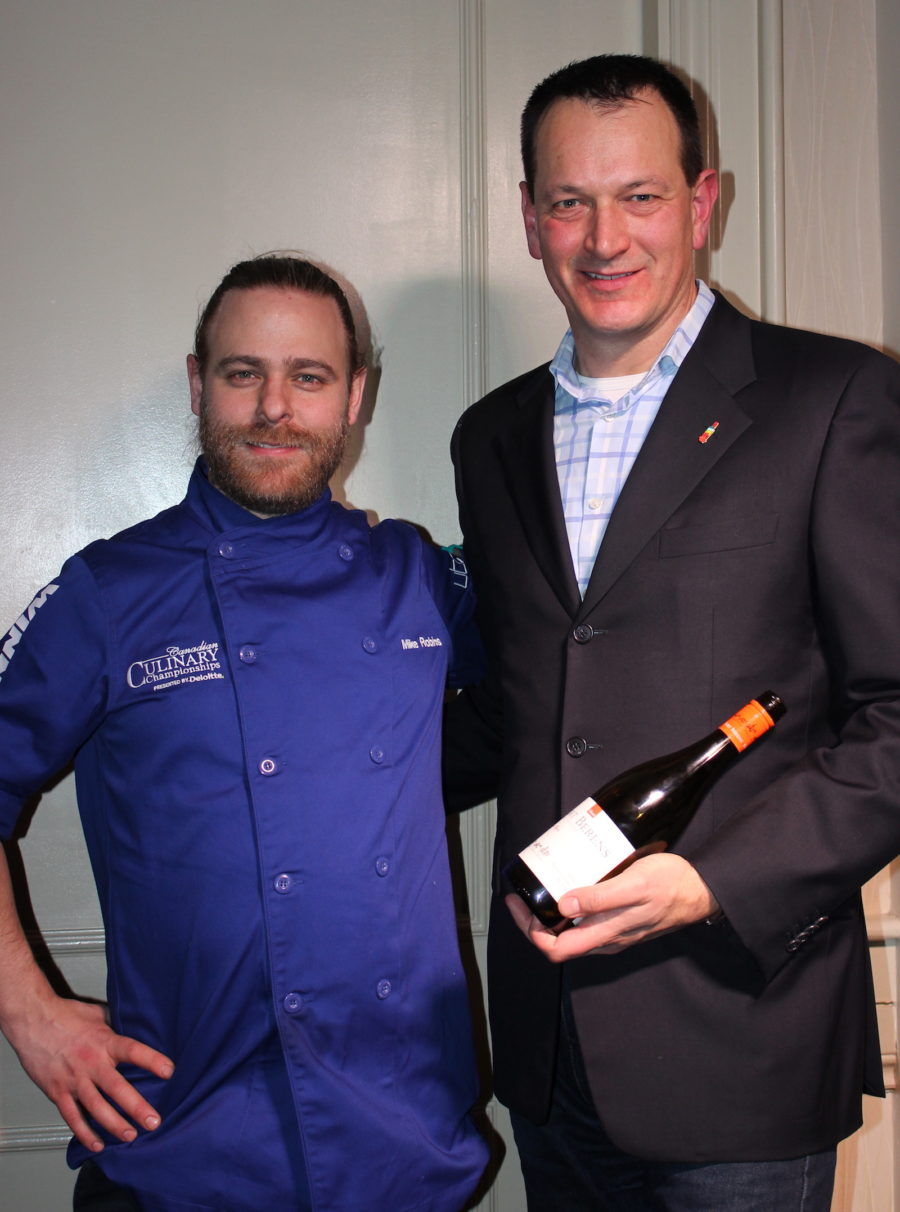 Rolf de Bruin, co-founder and co-owner of Fort Berens explained, "We were delighted to have our Pinot Gris selected as the mystery wine in the Mystery Wine Pairing Competition. As the first winery in the emerging wine region of Lillooet, our wine region is still very much a mystery and a surprise to many people, so it seems fitting that the mystery wine was from Lillooet. During the event, many guests guessed that it was a Pinot Gris. Many even guessed that it was from BC. But very few guessed that it was from Lillooet."
The suspense also ended with the announcement of the People's Choice Award for the best food and wine pairing going to Chef Mike Robins from Sous Sol in Winnipeg. Chef Robins created a dish featuring cold smoked halibut cheek and Salt Spring mussels, juniper berry, chantrelle mushroom lobster bisque with parissienne gnocchi and cashew cream.
Rolf continued, "It was an absolute honour to have these incredible chefs from across the country try our wine and showcase their amazing culinary creations designed specifically to go along with our Pinot Gris. The competing chefs created dishes that were diverse and distinct, much like our wine. Congratulations to all of the chefs for their incredible talent in creating amazing dishes to pair with our wine. And a big congratulations to Chef Mike Robins for winning the People's Choice Award for creating the best dish to pair with our wine."
Chef Mike Robins, thrilled with his win, explained about his winning pairing. "After tasting the mystery wine, my team and I felt we knew the varietal was Pinot Gris. We didn't want to overcomplicate anything, so we thought about what the wine made us want to eat. Grapefruit was used in our brine to bring out the nice low acidity of the wine. We also heavily charred some green onions to make our green oil. We felt the wine was calling for a bit of char and buttery seafood, so we spent the majority of our budget on the shells to make the bisque and the halibut cheeks."
David Lawrason, national wine advisor for Gold Medal Plates was instrumental in choosing the mystery wine for this year's competition. "The Pinot Gris from Fort Berens, an emerging wine region in Lillooet, BC, was a wine that was discovered when I was part of a media tour last year. The goal each year is to select a wine that will challenge chefs, guests and keep everyone guessing."
Now that the mystery has been unveiled, wine lovers are invited to uncover the mystery for themselves.